Went to see Rich Hall at Derby Assembly Rooms' Darwin Suite. Two revelations in one night. Firstly Rich Hall is comic genius and whereas on TV I thought him a bit slow (maybe considered and thoughtful would be fairer) on stage he's sharp as a knife and absolutley brilliant. Had me in absolute stitches. Second revelation is Darwin Suite, I always looked at Darwin Suite as being a bit of a second division venue to the great Hall at the Assembly Rooms (not sure how big the Darwin Suite is - will have to check with Liz at work as to how many snooker tables you can fit in it which is the way we measure things in I.T.). Anyway, it's not second division it's bloody great!
So today's tip is this - if you get the chance to go see Rich Hall take it. He's great, am definitely going to go see him next time he comes around. Am even considering treating the good wife to the tattoo he recommends...
Rich Hall Tour Dates
are listed here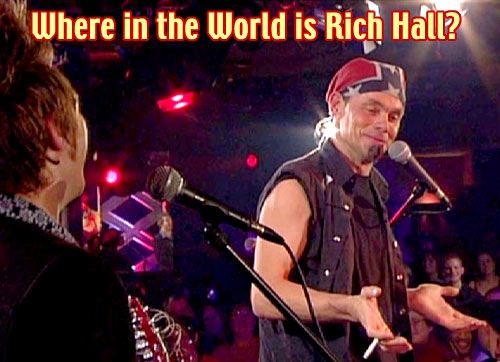 Week 53 Weighin
Lost a paltry pound this week but am not disappointed with that. Am messing with the plan at the moment which is just a bit on the stupid side and basically, you reap as you sow. Still a pound is a pound and it takes me a little a bit away from the deadly fifteen stone. Am running faster and putting the miles in on the road so I expect I can shift some more with time. If I could just start doing the plan properly again it'd go a damn site quicker - have lost the willpower at the minute.
Got lots to do today, so only did 3 mile run this morning, still exceeding 6mph which is sort of my new unofficial target running speed, so pleased about that. Got a rotten blister on inside of me left foot last night which isn't helping either...